starfish: n.

any echinoderm of the class Asteroidea, such as Asterias rubens, typically having a flattened body covered with a flexible test and five arms raidiating from a central disc.
[C19: from STAR + FISH, due to it's appearance]
starfish: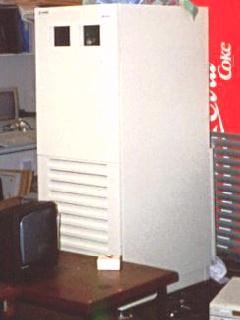 Other pictures: [back] [on the stairs]
How and when machine obtained:
Starfish was given to the UCC in 1995, by UWA's Centre for Water Research. Kind engineering types, who give us a lot of obsolete or unserviceable gear.
History prior to arrival at UCC:
Starfish used to smash numbers for CWR. With its vector processing units, it did a couple of hundred MFLOPS and used to do fluid dynamics simulations and other computationally intensive tasks.
UCC history of machine:
The machine was moved from the UCC to a cupboard about 100 metres away in the Guild, due to weight, noise and power drain problems.
Installed in its new alcove, it sounded like a continuously vacuuming janitor or a new largish air-conditioner had been installed in the Guild building.
After noise complaints, it was moved back to the UCC as variously an NFS server, FTP server and xntpd host.
Starfish was one of the primary motivations behind the machine room...
Current machine tasks:
Current software configuration:
Running StarOS [like SunOS 4.1.1]
Current hardware configuration:
A Star 910/VP [a Sun 4 clone made by Star Systems]
128Mb memory
2 * 760MB Imprimis SCSI disks
Wangtek 150MB QIC tape
Interphase Dual channel SCSI controller
Interphase 40MHz Sparc CPU card
Future plans for machine:
Talk is afoot about trying to port S/linux to it (why should the AP1000 have all the fun?) or maybe NetBSD/OpenBSD, so as to try and get a working compiler and make use of the 128MB.
Special notes:
The machine is very heavy, very large and very very noisy. Unfortunately Star Technologies is no more, so any information that anyone might have about the 910/VP would be of value to us!
Decommissioned 04/2000 due to large size and low processing power! Given to Simon Fryer on indefinite loan.
Thanks:
Centre for Water Research
Related sites: