nautilus
The ship used by Captain Nemo to dive under the sea.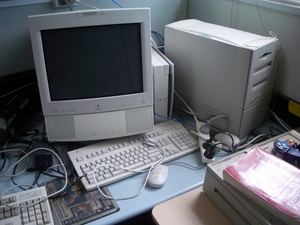 How and when machine obtained:
Nautilus was bought in 1998 with money from O'Day takings and with member donations. It was bought from Winthrop Australia
History prior to arrival at UCC:
There was none, as it was born at UCC.
UCC history of machine:
Nautilus has had its RAM upgraded to 160mb (March 2001)
Current machine tasks:
General User Box
Along with arctic provides a Mac development environment
Mac Games!
Current software configuration:
MacOS X (10.1 ?)
MacOS 9.2
Current hardware configuration:
2 x 32MB DIMMs
2 x 4MB VRAM
x24 speed CD-ROM
Zip drive
PPC750 266MHz "G3" CPU
6GB IDE HDD
AppleVision 1710AV monitor
Apple (Miro) AV option
FireWire (IEEE1934) card
Future plans for machine:
Special notes:
Thanks:
Related sites: