mudhead
member of the fish family Cheilodactylidae.
(source: Australian Museum)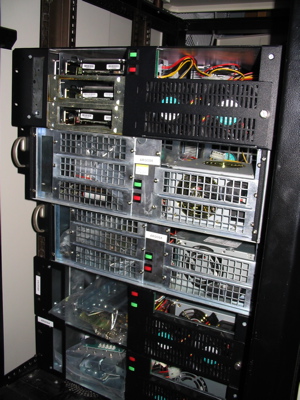 How and when machine obtained:
Mudhead consists of 7 UP2000 dual Alphas 833HMz donated to us by Fugro FSI.
History prior to arrival at UCC:
Mudhead was an 8 machine (16 CPU) cluster doing seismic anaylsis for Fugro FSI. The last dual alpha was used to replace Morwong
UCC history of machine:
None as yet, we're still setting it up.
Current machine tasks:
Current software configuration:
Current hardware configuration:
2x 833MHz Alpha EV68 processors with 4MB cache
Future plans for machine:
Finish putting together a cluster of sorts
Special notes:
The onboard Adaptec SCSI card in the UP2000 does not play nicely with Tru64 and needs to be disabled.
Thanks:
Fugro Seismic Imaging for their donation of the new machine, and
PXY and TRS for getting the new machine working.
Related sites: