mooneye
A silvery freshwater fish of the family Hiodontidae, especially Hiodon tergisus of eastern North America.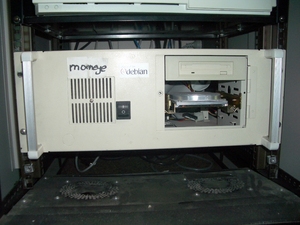 How and when machine obtained:
Mooneye was built from parts in 1999. The parts were from assorted donations.
History prior to arrival at UCC:
There was none, was born at UCC.
UCC history of machine:
Arrived early 1999.
Took over from moray in late 1999 as a mail/web server.
Due to overheating problems, various parts were replace during 2000.
In August 2001, the hard disk died and could not be resurrected. As mooneye was only a 5x86 with 32MB of RAM, we rebuilt it from scratch around a dual pentium 90 motherboard that was not yet assigned a task. Since there was no significant common links between this system and the old mooneye, it should've gotten a new name.
Mooneye died in 2002, allowing all hell ot break loose. It was transplanted, and put into a new case. Once again becoming a stable part of the network.
Mooneye was upgraded in 2005 to a dual Pentium 2 and transplanted yet again when the business school donated some of their older machines to the club.
Current machine tasks:
Acts as the primary point of contact between the outside world. Handles flame, mail, web and DNS services.
Proxies WWW requests to mermaid.
Current software configuration:
Mooneye runs Debian GNU/Linux
2.4.x kernel
Current hardware configuration:
Dual Intel Pentium 2 @ 450MHz
512MB RAM
Intel 100Mb network card
Future plans for machine:
Special notes:
Logins are restricted to wheel members only.
Thanks:
All those involved in building it and keeping it alive.
[TDH] for donating the motherboard.
[MSH] for providing the CPUs.
The UWA Business School for donating the parts for its current incarnation
Related sites: