martello
Italian name for the shark Sphyrna zygaena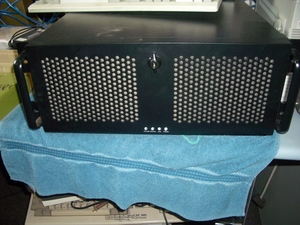 How and When the Machine was Obtained
Purchased as parts in 2004 from user donations and profits from coke sales
It took until the beginning of 2005 to aquire the SATA card for the disk array.
History Prior to Life in the UCC
None. This machine was UCC built.
History at the UCC
Martello was built and was being used as a fast user box until the SATA card finally arrived. Then it was converted into the new fileserver to replace morwong.
In setting up the new fileserver and optimising the disk array, MSH discovered not only an ext3 bug in the Linux kernel, but an ext2 bug as well.
Current Machine Tasks
Serving /home
Number crunching and compiling, it's just soooo fast!
Current Software Configuration
Debian Etch AMD64
Linux 2.6
LVM on top of RAID 5 for the /home array
LDAP master for authentication
Current Hardware Configuration
Future Plans for the Machine
Special Notes
Originally we had a Promise SX8 SATA card, but all the drivers sucked too much. In-kernel ones were too slow with >1 drive, and Promise's own ones are unmaintained for newer kernels.
Thanks
[TRS] (James Andrewartha);
[DAG] (Bernard Blackham);
[MSH] (Matt Johnston);
and everyone who donated for the machine
Related Sites