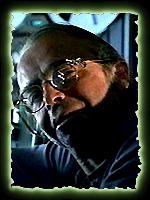 Frohike: fict. pers.

Character in the Fox Network television series The X Files played by actor Tom Braidwood.
Frohike is one of the Lone Gunmen -- a group of three government-monitoring conspiracy theorists. Short, unshaven and clad in combat boots, Frohike is the Frog Prince of the Lone Gunmen. He looks like the proverbial dirty old man and holds an attraction towards Agent Scully, which he makes no attempt to make secret; he once loaned Mulder a pair of night-vision goggles but only in exchange for Scully's phone number. He's the photographic and surveillance expert, and the silent one, among the trio.
[Source: The X Files, Fox Television]
frohike:

How and when machine obtained:
History prior to arrival at UCC:
UCC history of machine:
Current machine tasks:
Current software configuration:
Current hardware configuration:
Future plans for machine:
Special notes:
Thanks:
Related sites: