beige: n.

a very light brown, sometimes with a yellowish tinge, similar to the colour of undyed wool.
a fabric made of undyed or unbleached wool.
[C19: from Old French, of obscure origin]
beige: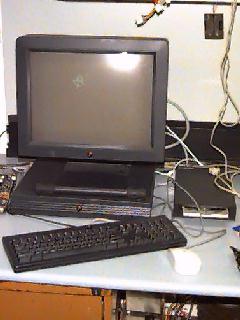 Other pictures: [laser printer] [external drive]
How and when machine obtained:
History prior to arrival at UCC:
UCC history of machine:
Current machine tasks:
Current software configuration:
Current hardware configuration:
68040 chip running at 25MHz
5600 DSP chip running at 20MHz
20Mb RAM
2.88Mb floppy drive
1Gb internal hard drive
1Gb external hard drive
External double speed [?] CD-ROM drive
400dpi laser printer
Megapixel monitor
Built-in 8-bit microphone and 16-bit speakers
NeXT keyboard
NeXT mouse
Future plans for machine:
This machine will probably be used mainly for learning about the NeXT development environment, and disk space for our greatly expanding plethora of data we keep on hand.
Special notes:
This machine is called beige because it is black. It was a choice between magenta (because it starts with M) and beige -- the final decision was determined by the toss of a coin.
Thanks:
Related sites: