azure
Abbr. az.

Color. A light purplish blue.
Heraldry. The color blue.

The blue sky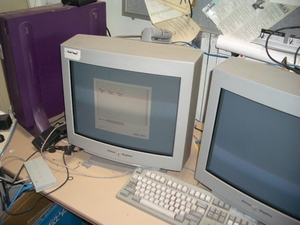 How and when machine obtained:
Azure was donated by Hammersley Iron in 1999. Many thanks to them.
History prior to arrival at UCC:
UCC history of machine:
Arrived early 1999.
Died repeatedly during 2002, due to a large amount of red dust in the power supply.
Current machine tasks:
General purpose user machine.
Current software configuration:
Current hardware configuration:
166MHz (?) MIPS Processor
64MB RAM
Future plans for machine:
Special notes:
SCSI hard drive failed, was replaced and brand new IRIX installed
Power supply gave way repeatedly due to it's previous life as a miner
Thanks:
Related sites: