axolotl: n.

any of several aquatic salamanders of the North American genus Ambystoma, esp. A. mexicanum (Mexican Axolotl), in which the larval form (including external gills) is retained throughout life under natural conditions: family Ambystomidae.
any of various other North American salamanders in which neoteny occurs or is induced.
[C18: from Nahuatl from atl water + xolotl servant, doll]
axolotl: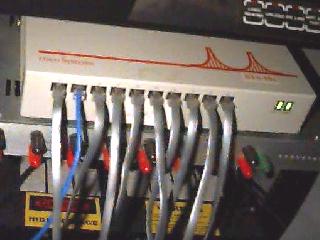 How and when machine obtained:
Axolotl is a CISCO STS-10x terminal server. It was picked up for the grand sum of $30 from an auction house in May 1996.
History prior to arrival at UCC:
UCC history of machine:
Current machine tasks:
Axolotl is currently serving terminals inside UCC and appears to be working happily. It has however had its fan repaired/replaced several times.
Current software configuration:
Current hardware configuration:
Future plans for machine:
Special notes:
Thanks:
To Cisco Systems for putting it's documentation online.
The employees of Cisco Systems who answered our question in comp.dcom.sys.cisco with regards to making axolotl remember its configurations.
Related sites: