My Taste in Music is Way Better Than Your Taste in Music
________
[Main]
[Reviews]
[Features]
[Albums]
[Wanted]
[Top 50]
[Guestbook]
________
tommo
at

ucc
dot

asn
dot

au
________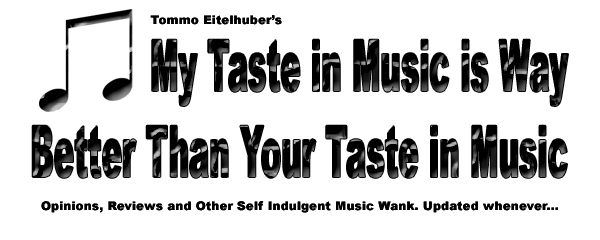 Top 25
Albums of
2007

End of 2007 Wrap Up

26 Dec 07: The last update of the year! I've outlined my thoughts on the music of '07, given a list of honourable mentions, a summary of my pick for the best song of the year and the big one - my top 25 albums of the year. I hope you enjoy it, and that you all have a Merry Christmas and a very happy New Year. Thanks for reading, and see you in '08!
Sharon Jones and the Dap Kings 100 Days, 100 Nights

21 Dec 07: I'm posting my last two reviews of the year at once, just to empty the backlog. First we have the latest by Sharon Jones and the Dap Kings...
Okkervil River The Stage Names

21 Dec 07: ...and second we have the new Okkervil River album. The "Best of 2007" feature will be posted after Christmas, so make sure you come back and have a look!
Last updated on Dec 26, 2007.
Please don't copy my work!
Thanks for visiting!